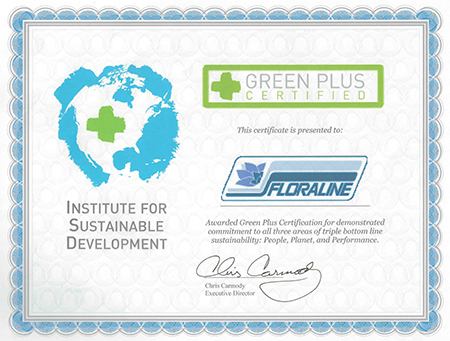 Green Plus Certified
We are certified from Green Plus, a triple bottom line organization helping businesses focus on People, Planet and Performance.
Our goal at Floraline is one of constant improvement, to that end our partnership with Green Plus has caused us to focus on each business decision and detail with an eye towards doing better.
Through the use of programs like SolidWorks and a dedication to state of the art manufacture, we have developed a product development process that includes:
Total digital product concept evaluation. We develop and you approve what the product looks like and what it does BEFORE anything is made. Computer software imaging and simulation is used so we know what you will get before any material is used. That information is then sent to our computer controlled manufacturing department for precision machine controlled parts build. Each part is then checked and fitted in place by our trained fabrication technicians. We employ redundant tests to ensure our computer simulations are verified in production. We are proud to announce that all new case development has been achieved with zero scrap waste.