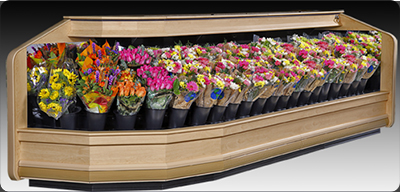 Low Profile Floral Fixtures FloralWall®
Our low profile FloralWall® will give your customers a counter height presentation of color and fresh appeal. You'll have the ability to incorporate this type of fixture as part of your service counter or anywhere you need to maintain sight lines. This style of refrigerated fixture is available with our optional self-watering feature and with a self-contained cooling unit.
Laminate and trim options to match your decor.
New insulated glass end panel choice.
Refrigerated: Remote or Self-Contained versions.
Self-Contained versions include:
coil dust filter to minimize maintenance.
Optional Self-Watering system: maximize
floral life, reduce shrink and minimize labor.
Smaller models operate on standard 15A / 115V.