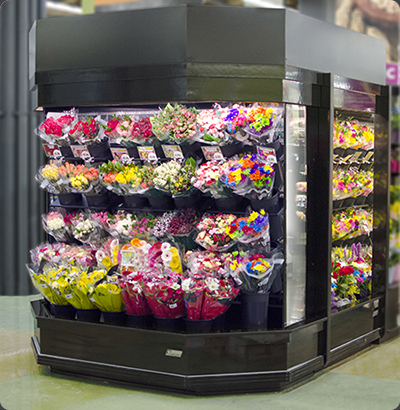 Tall Profile - FloralWall®
This fixture will give your customers a dramatic presentation of color and fresh appeal from across the store. These refrigerated fixtures are available in two versions. The FD is a hard working cold display. The SP includes our patented self-watering option.
Display up to 5 rows of floral buckets.
Optional Self-watering system to maximize floral life, reduce shrink and minimize labor.
Shelving choices:

Tempered Glass for arrangements.
Powder coated, angled bucket shelving to display bouquets at the correct angle.

Our unique 2 in 1 conversion shelf to display as a flat or angled shelf.
Laminate and trim choices.
End panel choices; Insulated Glass, Solid Panel or Thermal Window Inset.
Powder coated black or mirrored slat back wall options.
Mirrored interior side panels.
LED Lighting.
Self-contained or remote refrigeration.